Star Trek: First Contact Autographed Brent Spiner Card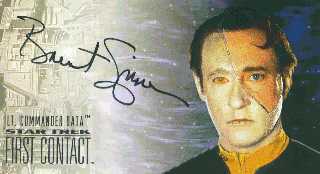 Deep Space 9 Profiles Autographed Armin Shimerman Card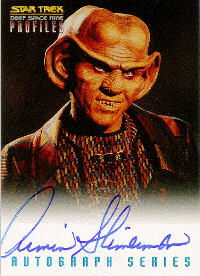 || ST:TOS || ST:TNG || ST:DS9 || ST:VOY || ST:MISC || SCANS ||
Last Update - January 5, 1999


<! --Text for Online Order Page-->

Can't find the card your looking for??? Now you can order boxes of cards on-line at a considerable savings. Check out my On-line Order Service!!!

<! --Text for main page-->

I've just added a Scanned Card section to my page. This is a great place to see some of the cards you may still be looking for. If you have any scans available, let me know. (Use caution though....promo geek alert!)

Check out all of the sections to see if I have any cards that you want and if there are cards that I need. Generally I will trade one for one if the card is on my want list, otherwise I will trade two for one.
Please note that I'm only interested in cards that are in Mint condition. Also, I will usually only trade commons for commons and inserts for inserts.
If you find something you want to trade please E-Mail me.






My favorite Star Trek Card Trading links:


Some of my favorite Star Trek links:



---
Proud to be a member of the,



Save Star Trek from Dying, Paramount WAKE UP! Campaign



Non Sports Trader Webring This Greg's Webring site owned by Steve Meckel.
[ Previous 5 Sites | Previous | Next | Next 5 Sites | Random Site | List Sites ]

This Site Best Viewed with:





The author is a member of

THIS WEB SITE IS NOT PRODUCED OR ENDORSED BY SKYBOX INC., OR PARAMOUNT PICTURES.

Certain items on these pages are © & ® or ™ 1999 Paramount Pictures. All Rights Reserved. STAR TREK, STAR TREK: THE NEXT GENERATION, STAR TREK: DEEP SPACE NINE, STAR TREK: VOYAGER and all characters and related marks are Trademarks™ of Paramount Pictures.
Certain items on these pages are © & ® 1999 Skybox, Inc. Skybox authorized user.